This weekend is Earth Day! I'm always excited about Earth Day because it brings out everyone's inner Lorax! I wish that every day was Earth Day (my friends used to call me the Lorax in high school). The fact is that keeping our earth healthy by living a green lifestyle, no matter how small or large scale, is important.
Last year, we went to an Earth Day Festival in Tampa and we got to see how local communities are really trying to improve their environmental impact. It's inspiring because it shows how individuals working together towards a common goal can make a difference. Even if it's just doing something simply at home, we're all working towards the goal of minimizing our environmental footprint.

Here at From Under a Palm Tree, we're always talking about single-use plastic and how detrimental is it to our environment. Whether it's piling up in a landfill or ending up in our precious waterways, plastic waste is a problem.
Related: Taking the Plastic-Free July Challenge
So I put together a list of some eco-friendly products that can replace single-use or disposable plastics. Just like working with local communities, it's important to work with companies that actually want to make this world a better place.
Here is a list of 7 eco-friendly products to replace your plastic disposables:
Biodegradable Toothbrushes
I never would have thought to replace my toothbrush! And even though you don't throw it away after every use, it's still disposable. You can replace it with these biodegradable, charcoal bristle brushes! How cool are these?
Related: Eco-Friendly Shopping Tips
Reusable Straws
Plastic straws are the worst! They're one of the number one single-use plastics, and they don't break down. They just turn into smaller plastic pieces and they're incredibly harmful to wildlife. If you can avoid them, do it. If you can't, try these stainless steel straws or these silicone straws.
Related: Eco-Friendly Gifts
Reusable Menstrual Products
I'm not going to choose anyone's menstrual cup for them but I can recommend these reusable pads and urge anyone to look into reusable menstrual products. Think of all the plastic that tampons and pads create that can be avoided.
Related: 10 Reasons to Choose Cloth Diapers
Bees Wrap
Food storage is also a big one for single-use or disposable plastics. These Bees Wraps are great alternatives to plastic wrap, aluminum foil, plastic bags, you name it. They're washable, reusable, compostable, and made from eco-friendly ingredients! They're also super cute!

Related: Make Your Food Last Longer
Wool Dryer Balls
Dryer Balls are an alternative to fabric softener and dryer sheets. They're organic, infinitely reusable, and even make for shorter drying time so you're saving money and energy there too!
Related: How to Recycle Mascara Wands – Wands for Wildlife
Reusable Glass Water Bottle by Faucet Face
I've mentioned this brand before because not only are they eco-friendly, they also contribute a percentage of their sales to Clean Water Drinking Charity. We all know water bottles are terrible, we just need to invest in some cute, eco-friendly reusable ones and ditch plastic!
Related: Gifts that Give Back
ECOlunchbox
Another great alternative to food packaging are these ECOlunchboxes. When packing your kid's lunch or your own, you're probably using some kind of plastic. These products are amazing because they're either stainless steel or silicone. They're both 2 amazingly sustainable products, especially for anything carrying your food.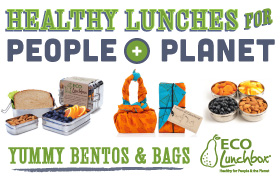 I hope you check out these products and find a way to incorporate them into your lives. Do you have an eco-friendly staple that you love? Let me know in the comments!
This post contains affiliate links. Affiliate links help support From Under A Palm Tree and help pay for web hosting, email delivery, domain registration, and other various fees that help keep From Under A Palm Tree operational. We appreciate your support!
Christina is a twenty-something living with her beagle, Mash, and husband, Nate in their van. She loves traveling, shopping, art, and photography. She's also a vegetarian, pop-culture enthusiast, book-lover, and Dave Matthews Band fanatic. Catch her somewhere around the country in a converted camper van or at home in Florida for a visit.